SmartComm
The SmartComm solution offered by VSPL to the Departments and Individual customers is a state of the art bulk SMS solution . Using the solution the Users/Department will be able to create and manage different groups to whom it want to send SMS messages instantly or at pre-scheduled times. SMS broadcast can be sent from the web application or from the mobile handsets of the authorized users.
The system is offered on Software as a Service (Saas) model for immediate use by the Customers and subsequent hassle free working.
Features of SmartComm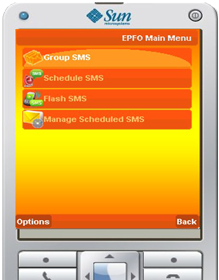 SmartComm is offered on Software as a Service (SaaS) model. So, you don't need any IT infrastructure to use it.
SMS broadcast can be done from Web portal or from Mobile phones by the authorized users.
A very user friendly, easy to use interface is provided to do the user/SMS management functions.
Dedicated sender ID for the Department
A master user account is allotted to the Rural Department. Using this master user account, further internal user accounts can be opened by the department.
The SMS groups can be created easily by importing data from Excel files.
SMS can be sent instantly or it can be scheduled for a future date/ time.
MIS Report's dashboard showing details of SMS sent by different users day wise/time wise, total SMS sent, SMS quota balance etc.
No daily limit of sending SMS. Thousands of SMS can be sent per hour.
Citizens can also send their suggestions, feedbacks, grievance etc to the Department by sending SMS to the short code. Department officers will be able to see and respond through web panel.
SmartComm Benefits
No investment required for Servers, No IT trained manpower required by the Department.
Immediate cost benefit is experienced by the Department as it uses the most economical communication channel available today which can address all the internal communication needs of the Department and also communication needs between Rural Department and the citizens.
Go live instantaneously.
Assure smooth operations.
Keep Citizens, staff happy and connected.
Give an easy and simple interface of working to the staff members.
Become more responsive.
SmartComm Web and Mobile Interface - Features
Each client gets a super account with user name and password.
A shared/dedicated short/long code is provided
Super user can create additional users of SmartComm
SMS Group Creation facility- database can be created by uploading simple MS Excel files
SMS Master Group Creation facility - combine different groups into a bigger group
Create SMS, select target group then send instant SMS to all
Facility of scheduling SMS is available
Pre defined message templates- create your own text templates for sending repetitive type messages
Keyword creation facility- create your own key word. Citizen/users can send feedback/suggestions by sending SMS in defined format
Detailed SMS usage statistics- date wise, month wise
Delivery Reports
Flash SMS
Users can also download an Android app to send instant or scheduled Bulk SMS
Authorized officers can also trigger bulk SMS to a group by sending plain SMS from their mobile phone.
Web Portal - Screen shots