Mother Child Health care Mobile Based Reporting System
M-Health is an end to end process mapping platform for Health Department for field data collection. Using VSPL's M-Health system health workers working in the field (ANMs/Nurses) can send the all the reports like Registration of pregnant women ANC, PNC, Delivery, Child Vaccination, Deaths, Epidemic, Expenditure details directly from the field using mobile phone quickly. This eliminates requirement of filling paper based reports and subsequent requirement of feeding the data into the computer. As a result of m-Health System, the information gathering from the field becomes near Real time. Health Departments benefits from timely information availability right from the field and can provide better heath care to the beneficiaries.
System Features
You don't need to spend on expensive Smart Phone or Tablet to use M-Health app. The application works on any basic Java enabled feature phone. However in case you prefer, you can have it on Android as well. Facilities provided by M-Health system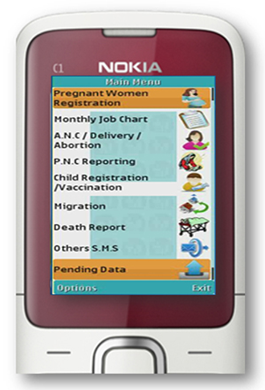 Mobile phone with M-Health Software is provided to health workers
Each mobile phone is pre-loaded with the health records of the beneficiaries he/she is serving.
Using M-Health application, health worker can easily Register of a woman right from her pregnancy till child birth
On device auto generation of complete test schedule during pregnancy period
Automated reminders to Health Worker/Pregnant woman regarding next check up/test before the scheduled dates
Facility of reporting of ANC/PNC test details with all parameters viz Weight, Hb, BP, IFA tablets given etc
Reporting of pregnancy outcome with full details.
Generation of immunization chart of the child and Follow up alerts
Facility to send Epidemic report occurring in any area.
Send medicine or vaccine requirements to the Department or report about any faulty equipment.
Send Child Vaccination Reports with facility to report adverse reactions till 5 years of age.
On mobile Work Plan generation for any month any place
Monetary fund utilization and expense reporting
Secured Web Portal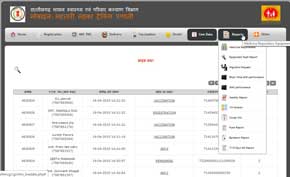 M-Health system provides a Comprehensive secured Web based reporting system fully integrated with Government of India's Mother Child Tracking System. All the reports sent by the field workers are captured on M-Health central platform, which in turn submits the reports through web services to the State/central Mother Child Tracking System (MCTS). Officials of the Health Department can see real time data and other reports through the web portal provided as part of the system.
Advantage of M-Health System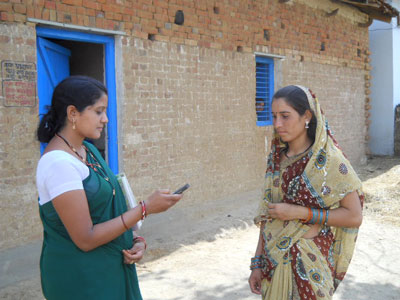 Data entry from anywhere any time by Health Workers
Less burden to ANMs, no more multiple paper based reports to be prepared.
Huge saving on paper, printing and logistics cost.
Computer based data entry not required at blocks.
Real time MIS and data analysis- monitor High BP, low Hb, underweight deliveries, MMR/CMR details etc
Increased Accuracy
Cross checking and validation
Transparent display of cases reported
Increased data security
Application password-protected on Mobile devices
Works even when no network is available
Application remotely upgradable over GPRS
Better user satisfaction
Better system efficiency
Implementation of M-Health System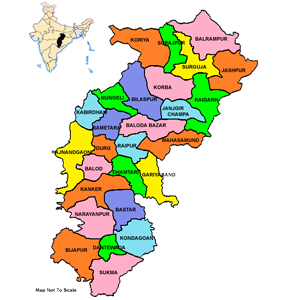 VSPL has implemented the M-Health system for Department of Health and Family Welfare, Chhattisgarh State (NRHM). 5000 plus Acredited Nurse Midwifes (ANMs) working in 146 blocks in 28 Districts of Chhattisgarh have been provided Mobile handsets loaded with M-Health applications. All the ANMs have been imparted training by VSPL before they started using the system. The system was rolled out in entire state in less than 90 days by our team. Entire field reporting from the field has now paperless in the state. The system is managed by us on Software as a Service Model (SaaS).

Statistics M-Health System of Chhattisgarh, India